How to prepare for NCHM JEE 2020 during COVID-19 Lockdown?
How to prepare for NCHM JEE 2020 during COVID-19 Lockdown?- With NCHM JEE 2020 round the corner and the coronavirus crisis in India, it is crucial for you to utilise the time in preparation during Covid-19 lockdown. At this phase of your preparation, you must already be well aware of NCHMCT JEE syllabus 2020. All you need to do is plan a proper exam strategy for NCHM JEE 2020 during covid-19 lockdown. In this quarantine period the foremost requirement for you is to completely go digital. Revise all the topics you have studied, attempt as many mocks you can, analyse them , indulge in doubt clarifications through video calls, etc. Remember if you want to make it to the top hotel management institutes such as IHM's, NCHM JEE is the only national level entrance exam that can ensure your entry into these colleges. Read here about how to prepare for NCHM JEE 2020 during covid-19 lockdown.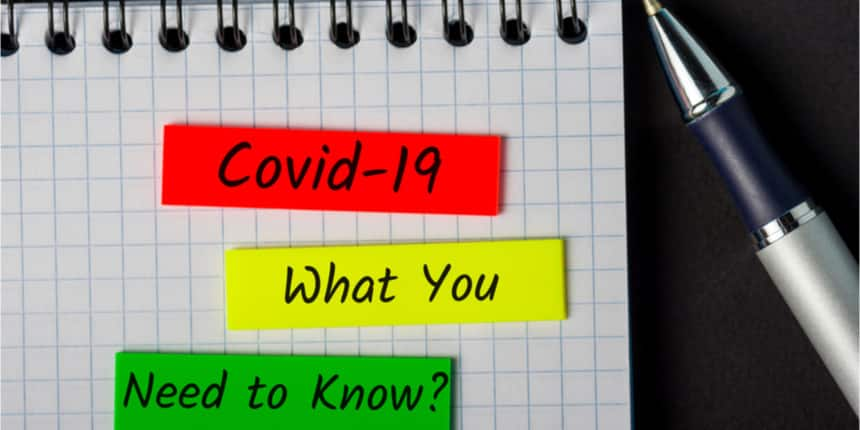 NCHM JEE Exam Pattern 2020
In order that you are missing out on exam patterns, it is essential for the candidates to know the NCHM JEE 2020 exam pattern beforehand rather than stepping directly to the last minute preparation tips for NCHMCT JEE 2020 during the quarantine phase. The insight into the exam pattern will give you an idea about the variety of questions asked, marking scheme of the entire paper and the weightage that each section carries. The table given provides the details about the pattern of the exam.
Exam Pattern- NCHM JEE 2020
S. No.

Sections

Number of questions

1.

Numerical Ability and Analytical aptitude

30

2.

Reasoning and Logical Deduction

30

3.

English language

60

4.

General knowledge and Current affairs

30

5.

Aptitude for Service Sector

50

Total

200
Quick link-
Best Books for NCHMCT JEE 2020 Preparation
10 Best NCHMCT JEE Preparation Tips & Strategy 2020
How to prepare for NCHM JEE 2020 during COVID-19 Lockdown
Amidst the coronavirus spread in India and this quarantine lockdown here are some of the preparation strategies that you can adopt to utilise the best of your time.
Keep relevant notes handy
It is important to make pertinent notes as the syllabus is vast. This will save your time and avoid pre-exam jitters. In this time you can refer to those notes quickly for NCHMCT JEE 2020 and make your study sessions more productive.
Stick to Mock tests till the last day
Attempt NCHMCT JEE mock tests as they will keep you updated about any latest changes in the exam pattern, the duration of the exam and the topics on which questions are based. Also solve NCHMCT JEE 2020 sample papers as they will help in subsidising the amount of pressure one feels before the actual exam. You will gain confidence and self analytical capability. Mock tests help you in revising the syllabus and give you the much needed boost for preparation during the quarantine phase.
Work on your weak sections
You will need sincere and dedicated efforts to clear the NCHM JEE entrance exam so that you need to work on your weak areas. The more you practice the more you will get to know your strengths and weaknesses. Analysing and working on your weak areas is the best tactic that you can practice even a few days before as these are the ones which will help you in acing the exam.
Practice the formulas and shortcut tricks
It is essential for the candidates to hover through the entire syllabus once but most importantly, cram up the formulas and tricks to solve numerical aptitude and reasoning questions. It is not possible to solve different kinds of sums in one last night but if you have maintained the notes of some basic formulas, you can revise them and hence brush up your knowledge.
Work on your accuracy factor
Remember you need not to attempt all the questions as there is a negative marking factor in the exam paper, so mark though less but accurate. So in this preparation phase of covid-19 lockdown, how can you work on your accuracy factor? Well the lane to this also goes through attempting the maximum mock tests and analysing them. That is how you can work on your accuracy section.
Keep yourself aware of recent happenings
Current affairs play as much crucial role in NCHM JEE as other sections, so you need to keep yourself aware of the recent happenings. Prepare from the 'Manorama yearbook', 'Pratiyogita Darpan', subscribe to the online alerts and most importantly read the newspaper daily.
Be Positive
This is one of the most pivotal tips amidst this coronavirus quarantine phase. While preparing for NCHMCT JEE 2020 you need to believe in yourself. Be positive. You know you have studied hard then there is no reason for you to panic. Your hard work will definitely pay off and in the end you will knock it out of the park.
Questions related to NCHM JEE
Showing 769 out of 769 Questions