"Humility, Focus, Patience"~ Kelvin Cheung : An Exclusive Interview of Celebrity Chef
How to Start Careeer in Culinary by Chef Kelvin Cheung: Do you often think of becoming a chef but not clear on how to proceed with the culinary education? Cooking at present is a high flying career but only if you are willing to intake long working hours and throughput full dedication. Choosing your career path can feel quite daunting, especially when you're looking at a career that requires years of investment to progress successfully. So how do you make it to the far in such a competitive industry? To achieve great heights in your career as a chef, though a formal education is mandatory( be it relevant degree or diploma, in addition to training or apprenticeship) but so is determination and patience. As the hospitality industry has been bombed down with a serious setback due to novel coronavirus, many aspiring chefs are on the borderline for choosing it as a career. But raise your hopes high again as here are all the questions and doubts answered by one of the country's leading celebrity chefs, Kelvin Cheung. The chinese chef, born in Canada, raised in the US and living in Mumbai, shares a special bond with India. In an interview with Careers360, Chef Kelvin Cheung speaks about what are the chef skills and qualifications required, how can aspiring young chefs reach the top positions, factors to keep in mind while applying for internship and the current scenario of job prospects in the chef profession. Read the entire interview to know more.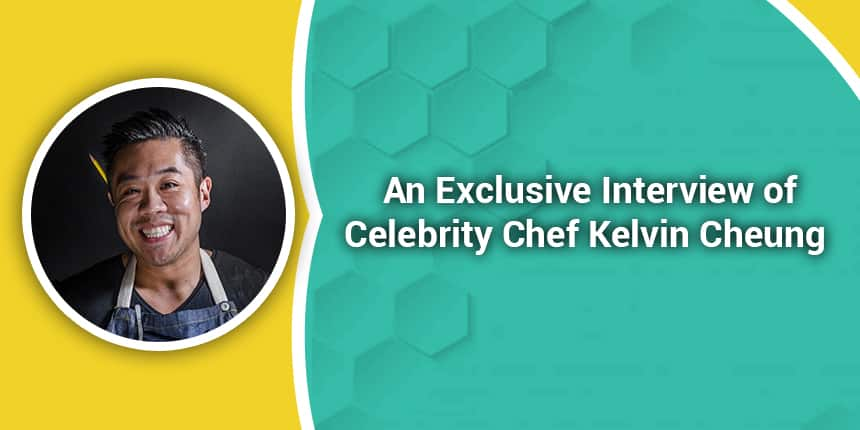 Also Read-
Why is formal training required to be a professional chef in a top hotel
5 Movies Every Aspiring Chef Should Watch
Careers360: So tell us chef, what ingredients go into making a good chef?
Chef Kelvin Cheung: Humility, focus, patience. Determination, heart, guts, inner peace, and the ability to persevere under pressure.
Careers360: What are the career prospects if one decides to become a chef, since in India it is still considered an unconventional profession?
Chef Kelvin Cheung: While I love cooking, it's very difficult for me to encourage the profession in the current scenario of the world. Until the hospitality industry is supported, it's a very tough business. Margins are small, long hours and harsh environments are glorified, and you are working when your friends and family are not. It's not an easy career path!
Careers360: Where did you go to culinary school? What credentials did you earn through your culinary studies?
Chef Kelvin Cheung: I went to culinary school at Kendall College in Chicago, won a few cooking championships, followed by passion for cooking to Belgium, Canada, the United States, and eventually India. I have worked for two hospitality companies in Mumbai and moved to Delhi at the end of 2019 as the Chef Partner of Dadel and Kiko-Ba.
Careers360: What is your favorite cuisine to cook?
Chef Kelvin Cheung: Food wise, I am currently inspired by my late father. Eddy was known for his modern Hong Kong style Cantonese food. His dishes are literally worth their weight in gold.
Just like my previous two stints in Mumbai in Bandra and Colaba, everything was completely different, but everything also stayed the same. If that makes sense! While my plating style changes with age, you can always expect a focus on exhibiting the diversity of Asian food, highlighting traditional cooking techniques and contemporary globally inspired flavours, along with native sustainably sourced ingredients. I've changed dramatically as a person over the past two years so it only makes sense that my food as well. Even the way I create dishes has changed. I know exactly what I was to serve and I won't settle for anything less.
Careers360: What is the biggest misconception about the hospitality industry?
Chef Kelvin Cheung: That good food is all it takes to make a restaurant work.
Careers360: What is your signature dish?
Chef Kelvin Cheung: I don't believe in a signature dish! Just like we are constantly evolving as people, so is my food.
My family influences my cooking in major ways, but so do so many other things - best bites I've eaten when traveling, the smell of my mother's congee, the sound of the utensils hitting a plate when a diner is eating, the list goes on and on. Gluten free pancakes were created for Andrea, but what you didn't know was that I used gluten free cupcakes that I was "testing" for Ellipsis as a way to woo her before we were dating. I baked my butt off to get that girl on a date. KelCakes were created while my wife was pregnant with our son and I had hit a bit of a "writers block" when it came to creativity. Andrea challenged me to bake something I loved, rather than something that was beautiful for instagram or that we knew would sell, and that's where KelCakes started from. They were messy and fun. You'll see newborn Bodhi in many of my original KelCake videos and photos as he was always strapped to one of us in the restaurants from 10 days old onwards. You'll see both Andrea and Bodhi's influence on both of these menus too like the sweet potato gnocchi in broccoli cheddar sauce from Dadel and the heirloom baby corn from the robata grill at Kiko-Ba.
Careers360: What has been the most memorable part of your career so far?
Chef Kelvin Cheung: The memories of washing dishes at my father's restaurants, to the disastrous opening of my first restaurant and definitely carrying my infant son while running the pass during a busy service all while my wife was washing dishes to help keep us up.
Careers360: How can aspiring young chefs reach top positions in the industry?
Chef Kelvin Cheung: 80% luck, 20% hard work.
Careers360: What do budding food entrepreneurs need to keep in mind?
Chef Kelvin Cheung: That it's a tough business and I don't believe in gimmicks, when it comes down to it the product has to be good.
Careers360: What would you advise current hospitality students in terms of future scope in this covid-19 times?
Chef Kelvin Cheung: Don't be afraid to pivot. Without restaurants being open, portions of our suppliers being unable to produce, and trade not in full swing - who knows what the new normal will look like! Your ability to adapt and change will be one of the most important traits to have in the near future.
About Chef Kelvin Cheung
Chef Kelvin Cheung was born in Canada, raised in the United States and lives in India. He has worked in Bastian Hospitality, Mumbai which owns Bastian, One Street, and Wholesome & Then Some for more than three years. He left it in 2019 and is now back again in Basant Lok market in Vasant Vihar, Delhi and towards the end is a striking royal blue door that opens up to Kiko-Bā and Dadel. Chef Kelvin Cheung garnered a celebrity following because of his hit Mumbai restaurant Bastian and now has over 1,72,000 followers on Instagram.