How to Approach Hospitality College Admissions During Coronavirus Pandemic
How to Approach Hospitality College Admissions During Coronavirus Pandemic- The coronavirus pandemic has left students dismayed especially in terms of hospitality college admissions. The college admissions during coronavirus, entrance exams, semester exams all are put on hold. However there are some top hospitality institutes in India which are conducting admissions into hospitality colleges online. The education sector of India, being in its admissions phase has been severely impacted due to the movement restrictions enforced by the lockdown. The students are faced with a new paradigm that has created a paradox. This new paradox emerges in college admissions, or perhaps an exacerbation of the critical one that already exists, one that, for some highlights an opportunity for strategy, to others woeful inequality, and to the rest, a quagmire of both. In this situation, it is obvious for any student to be concerned about how to approach admission to hospitality colleges during the Coronavirus outbreak. In this article, Careers360 aims to provide a solution to all those students who are aiming for admission into hospitality colleges.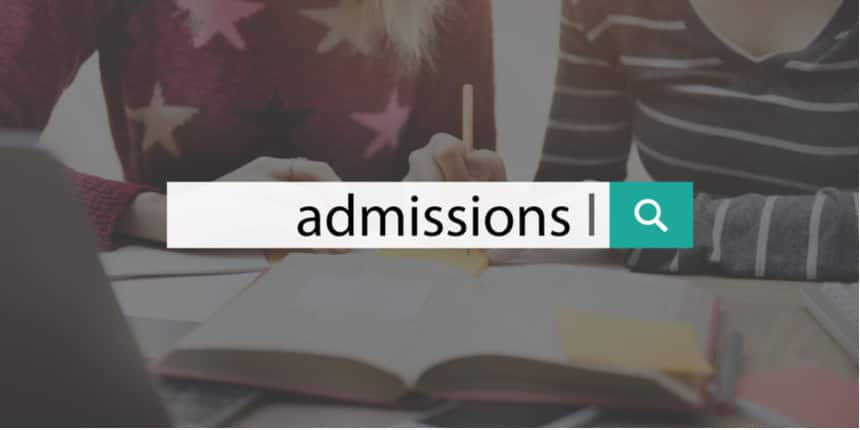 Also read-
Covid-19 Impact on Hospitality Sector in India
Covid-19 Impact on Tourism Sector in India
Covid-19 Impact on Hospitality Colleges in India
Let us first see the setback caused by the novel coronavirus in the hospitality and hotel management colleges and their training programmes.
Colleges whose admission processes were midway have had to put a pause on their operations.

While the hotel management institutes including those under the National Council of Hotel Management and Catering Technology (NCHMCT) have not been able to complete the final degree exams due to the lockdown, the council has no idea as to how and when to conduct the Joint Entrance Examination (JEE) for the new academic session.

There is an uncertainty on whether hotel companies will now fulfil the campus recruitment offers given to students

Many colleges in India do not have their application process available online. Due to this, a student is required to either personally visit the college for the application form or request the application form via mail / post. Both of these options have become unavailable due to the Coronavirus outbreak.

Many hotel management institutes are worried about how they will operate the theory and practical classes by maintaining the social distancing norm in the available infrastructure.

With top hotels being closed down, there is no certainty about the fate of the campus recruitments and the job offer letters they have received from the leading hotel groups

The post covid challenge is that in top IHM's set up where governments decide to increase the number of seats year on year without consideration of the infrastructure, the new social distancing norm will pose a lot of problem
General Admission Process: Overview
Before moving forward to the solution, let us first see the general admission process that is followed in most of the colleges.
Step 1: College Selection
Step 2: Filling the Application Form
Step 3: Appearing for Entrance Exam
Step 4: Taking Part in Counselling
Step 5: Final Allocation of Seats
Step 6: Final Admission
Approaching Hospitality College Admission during Covid-19
Here is how you can survive the chances of hospitality colleges admission even in the midst of the Coronavirus pandemic. Follow the solutions suggested below to ensure that you are able to go through the admission processes smoothly.
Step 1: Research and College selection 2020
Since the research work can mostly be done online, you may not face any major issues during this step. There is a ton of information accessible online that may help a student choose the college while staying at home. Talk to an admissions expert for help at Careers360. You may also talk to your friends and teachers on the telephone and call the admission department of colleges for any queries. Many colleges also provide virtual video tours on their website.
Step 2: Filling the College Application Form 2020
There are many colleges and universities that allow candidates to fill the application form and the admission form both online and offline. However, some colleges do not have online options. In this case, stay updated on the latest admission news of colleges as they may provide alternative ways to apply. The application form may be made available online, though late because of the issues and arrangements problems hotel management colleges are facing now.
Step 3: Appearing for Entrance Exams During the Coronavirus Pandemic
This is the biggest challenge as all the exams are postponed to later dates or some have been standardized as postponed with no dates available for entrance exams, eg: MAH HM CET 2020. Entrance exams like AIMA UGAT BHM 2020 have been held as remotely proctored internet based tests but it is not possible for every conducting body to do so. So it is crucial you utilise this time in your preparation (Check how to prepare for NCHM JEE during covid-19) as the schedule can be out any time.
Step 4: Taking Part in College Counselling
Many of the state and national-level entrance exams in India have an online counselling process which does not require students to physically visit a location. However, the impact would be felt where colleges do not have an online counselling pathway for students. It is yet to be seen how colleges will conduct their counselling during the current pandemic. Candidates will timely get the live updates here.
Step 5: Final Counselling Round
A candidate is allocated a seat in a college and course based on the rank obtained in the qualifying examination. The counselling process continues until either the last rank candidate has been allocated the seat or all of the seats in all the colleges have been filled. As every candidate prefers to avoid visiting a college campus during this time, this has resulted in postponement of the selection processes of various institutes. Colleges may ask you to appear for the final selection rounds through online video conferencing. Students who do not have the necessary equipment such as laptops or webcams available will have to look for alternate means.
Step 6: Final Admission
Due to the delay in the previous steps of the college admission process in India, the final admission schedule is delayed. The date of commencement of classes in 2020 may be further down the year than is usual for students. Colleges are also pacing up to use online tools for teaching and other purposes as an alternate means in the face of current lockdowns.
Hence despite the above solutions, hotel management institutes, including IHMs, being self sustaining institutions, drastic drop in admissions will threaten the survival of many institutes. The only charm for students taking admissions to catering institutes in many north India is international recruitments. With international recruitments getting impacted badly this year, this may reflect on the admissions to the institutes as well, experts say.
Frequently Asked Question (FAQs) - How to Approach Hospitality College Admissions During Coronavirus Pandemic
Question: Will COVID-19 affect classes in hospitality colleges?
Answer:
Yes the classes will be affected. Most probably offline classes approach will be adopted by the colleges.
Question: When will MAH HM CET 2020 be conducted?
Answer:
For now, the dates of MAH HM CET stand postponed by the State Common entrance Test cell.
Question: How will the counselling of the colleges be conducted in covid-19?
Answer:
The counselling for most of the colleges is expected to be conducted through online video conferencing.
Question: Will NCHM JEE 2020 be conducted this year?
Answer:
As for now there is no official notification regarding NCHM JEE. However the exam which was supposed to be conducted on April 25 has been postponed until further notice
Question: How can the application form for hotel management colleges be filled?
Answer:
Amidst coronavirus, most of the colleges have opened the option to fill the application form via online mode only.
Questions related to NCHM JEE
Showing 692 out of 692 Questions