Green Cleaning - The Path Forward for Hotel Housekeeping
Green Cleaning - The Path Forward for Hotel Housekeeping: In recent years the hospitality sector has confronted the ecological impact. The world is already jeopardized by many environmental issues like global climate change, ozone depletion, pollution, exploitation of resources and increasing amounts of solid wastes. Brazen use of resources by the hotels at the cost of the environment is no longer an option in the time of climate change. Top hotels in India have been raising their standards of eco-friendliness to accommodate their duty to the world around as much as to demanding guests. These efforts to 'green up' have led the industry across the globe to move towards resource efficiency with the use of renewable energy, efficient water management and plans to reduce energy usage wherever possible. This is what is green cleaning-the path forward for hotel housekeeping. Let us give a peek into the detailed concept of this green cleaning.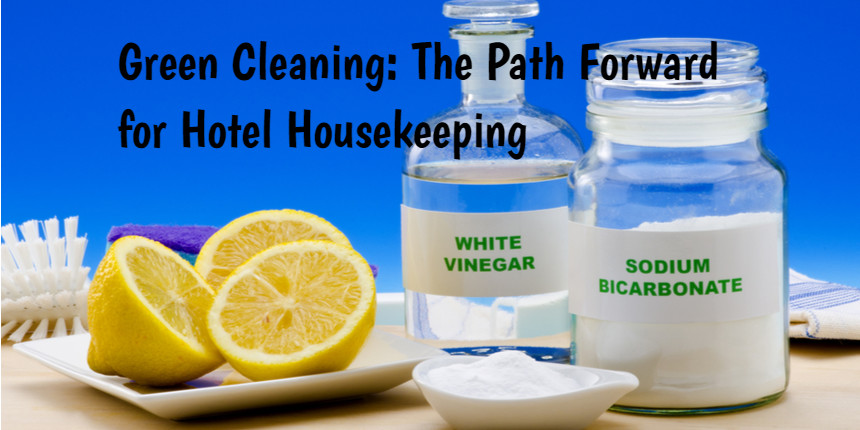 Also read- Top 10 Qualities of a Great Hospitality Employee
What is Green Cleaning?
Green cleaning or say green housekeeping is an important aspect of sustainable practices, an evolving trend of today's times. This is a comparatively new concept and the term is used for employing cleaning methods and products which are environment-friendly i.e. which have ingredients and processes that inherently safeguard human health and environment quality. Having a 'green cleaning policy' has now become a standard of sorts in the industry. A 'green cleaning policy' involves several aspects, most important among which is the revaluation of current cleaning products and methods. LEED (Leadership in Energy and Environmental Design) the world's forerunner in the environmental certification of buildings has in fact made such a policy a mandatory part of its indoor environmental quality section for certification and recertification. Certain housekeeping practices like using certified equipment, microfiber cleaning, entryway matting and water saving devices also add credit to the green cleaning movement. Here are a few steps that hotels can take to make their housekeeping eco-friendly:
1. Keeping the Chemicals Out
The hotel industry is a sector where there is a far greater usage of chemicals than offices or households. While purchasing cleaning products, hotels must select cleaning products that are least harmful. This will ensure the guests and cleaning staff are safe from exposure to these chemicals. The water run-off from hotels can pollute water sources if toxic cleaning solutions are used. Even fertilizers and pesticides used within the hotel premises must be used safely and minimally. Room fresheners can be another source of various toxins such as formaldehyde, benzene, styrene, and phthalates. Therefore, keeping an eye out for natural and safe options is essential.
2. Use Chemicals Safely
The chemicals used for cleaning must be handled with vigilance and care. Exposure to harmful chemicals can have a negative impact, mostly on the housekeeping staff, and therefore must be reduced as much as possible. Staff must be provided with adequate equipment such as safety goggles and gloves when working with strong chemicals. Cleaning products must be appropriately diluted. Accidents that cause leakage of chemicals can be quite dangerous; therefore, every chemical must be stored in a secure place.
3. Clean Green
A high standard of cleanliness has to be maintained by the hotel and hospitality sector; this means continuously making sure surfaces are clean and spotless. This pressure demands that effective cleaning options are chosen for the job. Plenty of the products that are used in everyday chores at a hotel can have a massive impact on the environment and people around them. For instance, chemical-based fungicides can impact local insect populations, including bees, and certain cleaning liquids can release toxic fumes or harm cleaning staff if improperly handled. An example is the Leela Palace in Udaipur, that tests chemicals before approving them for use in the hotel premises. Areas are cleaned with the sample chemical, following which the hygiene department takes swabs from each area and tests the samples for any bacterial growth. Only if the chemicals are cleared by the hygiene department are they introduced in the hotel. Including these practices in the curriculum as well as while the formal training of students pursuing hospitality education, will benefit the sector and the awareness among the youth in the long run.
4. Invest in Green Equipment
It is high time that hotels must go a step further and invest in green cleaning equipment to use the resources minimally. Sustainable products must be used for floor and carpet care. For example, Green Seal that provides environmental certification in the US recommends vacuum cleaners that comply with Carpet and Rug Institute's Green Label Program requirements and work at a sound level of less than 70 decibels. Energy efficient air conditioners must be used in the hotel including guest rooms.
5. Have a Pest Management Plan
Pesticides and pest management methods used in a hotel must be sensitive to the environment. Every hotel must have a good indoor integrated pest management (IPM) plan that defines how pests will be managed in the hotel in a manner that is least harmful to humans and the environment. The pesticides picked must be least toxic, preferably natural and must be used minimally. The circumstances under which they are used must be defined in the plan. According to LEED guidelines, guests are to be intimated before and after usage of pesticides. It states that IPM should include, "A communications strategy directed to building occupants that addresses universal notification, which requires advance notice of not less than 72 hours before a pesticide under normal conditions and 24 hours after application of a pesticide in emergencies, other than a least-toxic pesticide, is applied in a building or on surrounding grounds that the building management maintains."
6. Introduce Training Courses for Staff
Having eco-friendly processes and products in place will not make a difference if staff aren't utilizing them correctly. This is impacted by each staff member's personal beliefs in regards to environmentally friendly practices, which is why it's vital for hotels to offer training courses for their staff. This initiative will surely help hotels conserve water, which might otherwise be wasted due to unnecessary flushing of toilets or excessive use of certain cleaning processes. The great thing about the training course is that it will carry over into other aspects of the staff's lives as well. There are several areas that hotels can focus on when it comes to training their staff, including rationalization, water management, energy efficiency, and water recycling, and as they say, every little step counts. Also the students aspiring for hospitality management courses will get a good reason to choose a career in hospitality.
Crucial Benefits of Green Cleaning
Green cleaning can have many different definitions, but the ultimate goal is to use techniques and ingredients that keep both your home and the environment healthy. Here are some reasons to consider going green:
Better for the environment

Better transparency of ingredients

Safer to use

Doesn't pollute water bodies

Cleaner, fresher air quality

Personal property lasts longer
Conclusion
The planet is quite rightly rising as conditions such as asthma and allergies are becoming more common in our children. Toxic chemicals in everyday products contribute to this and also to pollution of our water bodies. Since hotels are the larger industry where the usage of these chemicals is promoted, it could lead to harsh effects on the ecosystem. Therefore going back to basics and trying green cleaning for hotels is a benefit that will speak of itself.
Also read - Taj Hotels collaborate with TISS to launch hospitality course