Food Blogging: Expert Tips to Start Right and get Noticed
Food Blogging: What is food blogging? What does it take to be a successful food blogger? Well, there may be a flurry of questions in everyone's mind who is interested in cooking and is creative on the same hand and aspires to share his recipes, secret mantras with the world out there. You want to acquire fame d not be a successful chef who could come on TV , right? Believe, not everyone needs that type of fame. There are other shortcuts as well to make your name in the cooking industry acquire a large number of fans in the form of followers. While most food bloggers may know what food blogging is about, does the world know what food blogging is? This food blogging is a content creation, a real artistic one but along with the content marketing. Furthermore, it is never too late to start food blogging. So let us start with what can be construed as food blogging.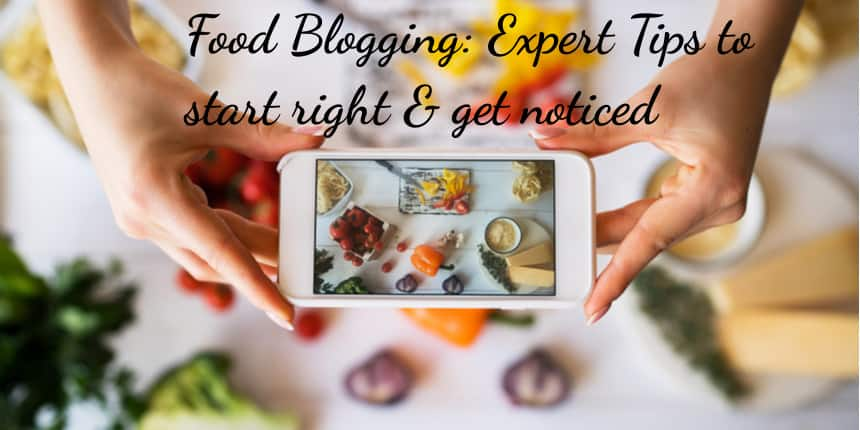 Quick Link-
Types of Food Blogging
Food blogging represents an entwining of "foodie" or gourmet interest in cooking with that of blog writing and image portraying. The majority of blogs use pictures taken by the author himself/herself and some of them focus specifically on food photography. These are the types of food bloggings:
The Cooking and Posting Bloggers: These are the bloggers who cook different types of foods on a daily routine almost, and post about their cooking stories along with super appetising pictures. It could be anything from a blog that documents highly authentic recipes, or experiential food. There will most often be a story accompanying the blog post.

The Restaurant Reviews: When you head to dine in a restaurant, you do a little survey in today's times simply because you don't want to spend your money on an unpleasant dining experience. So here is where these kinds of bloggers come to your rescue. These bloggers are the people we can count on to review restaurants for quality of food, ambience, service, price range and so on.

The Super Niche Blogs: These are bloggers who catalogue a shallow aspect within food itself. No bake blogs, gluten- free blogs, vegan blogs etc would come under this. Theirs is a repository of recipes that not only chronicles the food they are eating, but also gives a glimpse of their lifestyle choices.
Also read-
5 Movies Every Aspiring Chef Should Watch
Best Culinary Arts Colleges in India
What can you extract from this- Tips:
1. As you see, a food blog has overlapping elements of these three things. So make sure you encompass your food blog with a niche that is talked about with great detailing and storytelling.
2. Try to incorporate occasionally the nutrient values of the product and of course, the restaurant reviews.
3. Most importantly, there is no real rule. A blog is a personal journal. Anything you want to say about food through your blog, as long as your blog is mainly about food, becomes a food blog.
Food Blogging: How to Get Started?
First start penning down your thoughts. Now, you need a blog. You can start one on any blogging platform out there like Wordpress, Tumblr, Blogger, etc. Begin by naming the blog, getting started on a subdomain, or if you are ready for it, get your own domain and basically create an identity for your blog. Keep these things in mind while naming your blog:
1. Easy to recall
2. Easy to spell
3. Not too long
Theme and widgets: If you host the domain yourself, then that also needs to be looked into. Once you have the name sorted, then you move on to things like the theme, the overall design that gives a feel of your blog. This factor is essential because your blog is a reflection of you. Your readers are going to take away when they leave after reading a post. So refrain from going overboard. One of the things that bloggers consistently do, initially, is go a little crazy with the widgets which is not the best idea. Especially because you may be giving away precious traffic and ad space. Also you will be losing out on a page speed.

Creation and promotion of content: Now you have to create content and promote it. Remember the more content you create, the more valuable keywords you are gathering on your blog and eventually this will add up to making your blog SEO friendly.

Photography: The second big parameter to keep in mind, is the photographic content on your food blog. As you know now Instagram and Pinterest have taken over people's lives. So your portrait of the image is going to speak more than a thousand words. So get smarter with your photography and try to constantly improve on the photography.

Marketing: As important content creation is so is content marketing. Infact it is much more important. There will obviously be a lot of things to consider while writing and promoting a blog but in a nutshell these are some essential tips you need to follow.
Trends in Food Blogging in India
Today the text and recipes are secondary, the main emphasis is on the photography. Food blogging has become more or less a showcase for food photos. Here are some of the expert tips and views of the top food bloggers:
Jeyashri Suresh, a Singapore-based blogger, whose Facebook page Jeyashri's Kitchen has a following of a whopping 3,80,000 says, "People prefer to watch quick one-minute videos instead of watching a detailed one on YouTube. Posting on Instagram helps in gaining readership. Hence, bloggers these days post recipes and step-wise pictures on Instagram itself."

Nandita Iyer, Bengaluru based food blogger shares, " I do not use advertising on my blog, but there are a few sponsored posts. I keep them to a bare minimum, and make sure that whatever is the sponsored brand being spoken about is completely relevant to my audience."
Scope of Food Blogging
Over time, food blogging has become a competitive market and many blogs are run like businesses, emphasising on gaining followers. There is nothing wrong with it, especially if you want to turn your passion into a career option. Blogging comes with its own perks. Once your blog grows, you start receiving invitations from restaurants or top hotels for food tastings and posting about them in your own way for which you get paid. You get to work with new brands, communicate with new people and work on new campaigns. Unlike a desk job, blogging lets you work on new projects and discover more avenues very often.The digital world that we live in allows a massive scope of making money through the blog. Once you're able to build a substantial following, you'll be able to use your blog to promote and advertise products and make money. Food blogging can be your ticket to scaling new heights, as long as you are committed to blogging even when you feel like no one is interested.
Also read-
Green Cleaning - The Path Forward for Hotel Housekeeping