Campus Life at IHM, Hyderabad: See the sights of IHM, Hyderabad with Abhirup Bokan


Careers360 brings its first "Campus Life at IHM, Hyderabad" article covered under Campus Life Feature Series for its readers. The Campus Life Feature Series will include articles dedicated to life experienced by students, educational exposure received by them, quality of faculty staff, and fun life of students enrolled at some of the prestigious hotel management institutes located in different Indian states.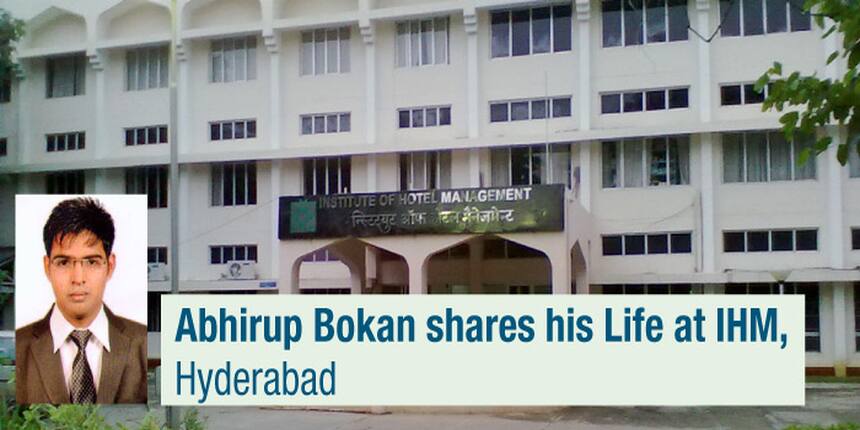 In this introductory article of Campus Life Feature Series, Abhirup Bokan, student at IHM, Hyderabad gives a glimpse into Campus Life at Institute of Hotel Management, Hyderabad. Abhirup Bokan summarizes on a few serious topics ranging from infrastructure of the institution to faculty members, to a few off serious topics such as the best hangout zones at IHM, Hyderabad.


Abhirup Bokan talks about his student life at IHM, Hyderabad and how time period of three years was quite fulfilling for him in terms of learning and embracing skills of hotel management course. Abhirup Bokan, who is pursuing last year of B.Sc in Hotel Administration from the reputed institute, shares how his campus life from 2011 to 2014 was a balanced proportion of study and fun.


Explore the IHM, Hyderabad Campus with Abhirup and experience his campus life through his descriptions and photographs.


Careers360: Describe your life at IHM Hyderabad in few sentences. What do you like the most?
Abhirup Bokan: Life at IHM-Hyderabad is full of fun and excitement. Lots of memories are seeded, which would be surely remembered by us in the future.
The kitchen faculty and the support is the one thing that I like most at IHM, Hyderabad. The kitchen faculty imparts excellent training which will help a student to establish a successful career in the food production department.


Careers360: What are the challenges faced by you to cope with new routines of the campus? What was the most difficult part of adjusting with the new campus life?
Abhirup Bokan: It was a bit hard to adjust with food, local language, and social culture of Andhra Pradesh. However, in my view these are common challenges faced by any new comer student, who is located outside his/her hometown. 


Careers360: What is the duration of your regular class room study schedule? Are you able to take weekly time off for some fun?
Abhirup Bokan: Since our classes are held only five days of a week, taking a free time out is not a big problem.  When there are short deadlines for submission of assignments or project, dividing time between studies and other activities is a bit difficult.


Careers360: Which are the best hangout zones at IHM, Hyderabad? What, according to you, are the most-visited places located nearby the campus?
Abhirup Bokan: Kismet-The Park Hyderabad, a luxury boutique; Vidyanagar railway platform; and Sai temple are the most preferred and popular hangout zones for us, the students of IHM, Hyderabad.


Careers360: What is your opinion about the infrastructure of the institute? How are faculty members, laboratories, mess, and everything else?
Abhirup Bokan: The institute has adequate kitchen lab, in-house campus gym facility, and adequate number of guest rooms. Guest rooms are utilized by students to learn and practice lesson tips related to housekeeping.
New provisions are also being made for a new kitchen lab.  A new cafeteria which is under construction is soon to be unveiled.


Careers360: Are guest lectures conducted at your campus? List a few guest lecturers by whom and on what topic you received the lectures.
Abhirup Bokan: Yes, special or guest lectures are conducted at campus.  Personality Development Program (PDP) or PDP classes are integral part of hotel management course curriculum. Mrs. Anjana Mishra, a guest faculty conducts classes for preparing students on how to face Campus interviews.


Careers360: What are the most prominent activities in your campus?
Abhirup Bokan:  Students and faculty of IHM, Hyderabad carry out monthly social campaign titled as "Clean India" under which we visit Golkonda Fort located in Hyderabad and execute our multi-step oriented cleaning activities. Besides, this IHM, Hyderabad also conducts several plantation drives at the campus premises.


Careers360: Which other extracurricular/fun activities make your campus life unique and interesting?
Abhirup Bokan:  Extracurricular activities such as skit competitions on various social issues, flower arrangement competitions, college annual fest, and intercollegiate competitions are responsible for making our campus unique over other hotel management institutes.


Careers360: Are any kind of grooming and communication skill enhancing sessions/classes conducted at campus? Please elaborate what are its benefits and how it has helped you?
Abhirup Bokan:  As I have already mentioned, guest faculty offers tips regarding communication skills and career prospects for hotel management students. Grooming classes are taken care by IHM, Hyderabad faculty.


Careers360: How many industrial visits are included in your hotel management course curriculum? Share your experience.
Abhirup Bokan:  It depends whether a particular activity need an industrial visit or not. For example, to understand how a fire drill is performed, this activity is not possible to showcase at campus. So, we take students to hotels to demonstrate how fire drill activity is performed.


Careers360: How do you get to know about the latest happenings in the college? Is there any in-house magazine or something else for that?
Abhirup Bokan:  There is an annual in-house yearly magazine "cackle" which displays the achievements of students, placement percentage, and the overall ranking of the institute.
Also Read
Top Hotel Management Colleges in India
Hospitality diplomas: Train for free, get a top job
BA Culinary Art: Passion for making food
Demand for hospitality graduates on rise!
Questions related to NCHM JEE
Showing 692 out of 692 Questions