BHM vs BBA (HM) vs BA Tourism- Which is the best career option after class 12?
BHM vs BBA (HM) vs BA Tourism: Which course is best in the hotel management field? Is it BHM or BBA or BA tourism? This course-college dilemma is something which every student faces while opting to make a career in hotel management. Guess what, all of these options are related and almost the same, the difference being they may land you in different areas of hotel, hospitality and tourism. For any student who wishes to join the hotel management and tourism industry, there are a number of educational pathways available. One can go through these pathways either by pursuing hotel management courses after class 12 or by pursuing some diploma and certification courses. The top hotel management colleges in India do grant these courses and most of them require to clear a national level based hotel management entrance exam, NCHM JEE. For a candidate facing a course dilemma, it can be a problematic thing to figure out which would be the best choice of hospitality course for a candidate. In order to clear your doubts, Careers360 brings you the comparison factor of BHM vs BBA(HM) vs BA tourism.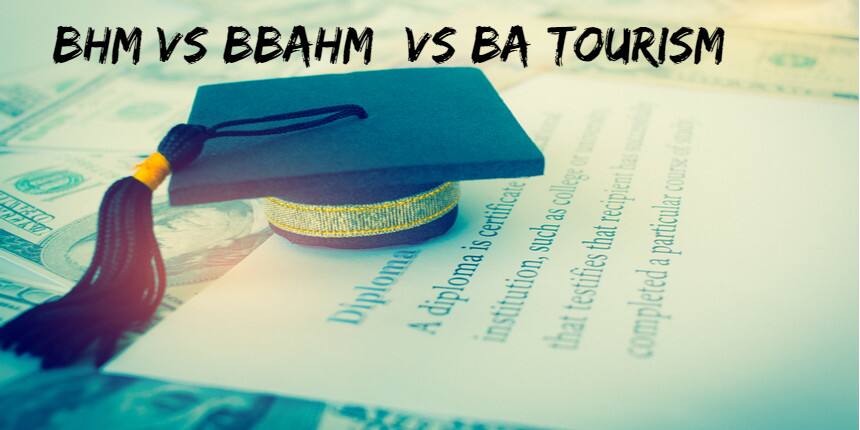 How to select which is the best course? BBA (HM) , BHM or BA Tourism?
Before choosing the course among these three, it is important to research about the course which has more career scope in the hospitality industry.

Identify your specialization- from General Management to Housekeeping Operations to food production to culinary arts.

If you wish to plan a career in tourism, question yourself whether you are interested in visiting new places as a tourism consultant would be required to do or do you want to be in a specific place without the move and be a restaurant or hotel manager.

Research for the best colleges you can get if you get into BBA(HM). BHM or BA Tourism courses. This is so because if you pursue a course from a not so good college your career may be jeopardised.

Talk to the alumni of that course and the college on Linkedin networks.
Now let us talk about each of the courses in short.
What is BHM?
BHM or Bachelor of Hotel Management course is a 3-year undergraduate degree in hospitality management. Few of the colleges and institutes also offer this course for 4-years like WelcomGroup Graduate School of Hotel Management, Army Institute of Hotel Management and Catering Technology, and others. BHM course curriculum comprises subjects related to housekeeping operations, front office operations, food and beverage services, kitchen services, and alike. Candidates need to have excellent communication and interpersonal skills to fit into this course. BHM graduates can be recruited by a number of companies especially hotel chains and the tourism industry.
Related Article- What do you study in Hotel Management – BHM course overview
What is BBA(HM)?
BBA in Hotel Management is a 3-year undergraduate course which intends to teach students about how to manage institutions like hotels and such similar establishments. BBA in Hotel Management teaches students about the nuances of managing a hotel by teaching them the fundamentals of management like organizing, directing, planning, and some computing skills and skills of managing accounts. Students also have to study about housekeeping operations, hospitality management, HR Management, Basics of Food Production, etc. The average course fee ranges from Rs. 60,000 to 4 lakhs. Students get to work with hotel-chains like Hyatt, Taj, Oberoi and other companies like Yatra. They can work on profiles like Restaurant Manager, Front Office Receptionist, Department Manager, Sales Executive, etc.
Related Article- Top Hotels that offer Highest Packages to Hotel Management Graduates
What is BA Tourism?
B.A. Tourism Studies or Bachelor of Arts in Tourism Studies is a 3-year undergraduate travel and tourism course. The B.A (Tourism) degree course mainly covers the study of topics such as tourist resort planning, food service management, ecology, environment and tourism, intercultural communication, etc. The course has great value and importance in today's time as tourism became the hub of the economic development of every country. Students of BA in Tourism can also work in travel agencies where they accompany the passengers in exploring various places and cities. They can work at top notch hotels of India and be the host for various clients.
Related Article- Tourism Education in India
Now let us move on the comparison between these courses.
BHM vs BBA (HM) vs BA Tourism
Factor

BHM

BBA (HM)

BA Tourism

Full Name

Bachelor of Hotel Management

Bachelor of Business Administration in Hotel Management

Bachelor of Arts in Tourism

Duration

3- 4 years

(depending on the institute)

3 years

3 years

Eligibility

These three courses fall under the undergraduate level degree. The eligibility criteria for admission to these courses is mentioned below.

Candidates should have gained or secured at least 50% in 10+2 from a recognized board or equivalent.

If a candidate is applying for lateral entry admissions, then you should possess a minimum of 50% score in a 3-year diploma in hotel management or equivalent.

Candidate must have completed your qualification with English as a mandatory subject.

You should possess good communication skills




Age Limit

22 years (General)

25 years (Reserved category)

25 years

No Age Limit

Admission Process

Admissions are based on counselling as per the criteria set by the exam conducting body and college of application.

Admissions are based mostly on the basis of merit as per class 12th score or entrance test (if conducted).

Entrance Exam

Hotel Management Entrance Exams such as NCHMCT JEE, AIHMCT WAT, WBJEE, IPU CET

No common entrance exam is conducted for admission. However, the college a candidate is applying to may conduct their own entrance exam. The exact admission process is defined by individual colleges and universities.

Average Course Fee

Rs. 4 - 6 lakhs

Rs. 1 - 3 lakhs

Rs. 50,000 - 1 lakh

Scope and Job Opportunities

BHM graduates are hired for the following job profiles:

Front Office Manager

Housekeeping

Catering Manager

Chef etc.

Cabin Crew

The following positions are usually open for BBA (HM) graduates:

Department Manager

Restaurant Manager

Front Office Receptionist etc.

Given below are the popular job profiles of BA Tourism graduates:

Tourist Guide

Travel Agent

Tour Manager etc.

Average Starting Salary

Rs. 3 - 5 LPA

Rs. 3 - 5 LPA

Rs. 2 - 4 LPA

Who is it for?

Candidates who wish to pursue a career in the hotel and hospitality industry as a manager, chef, caterer etc. Since the course also involves the teaching of culinary skills, it is also great for restaurateurs. Since this is a vocational course, it is a bit more expensive than the other two but also has better scope and salary prospects than the other two.

Candidates who wish to go into the business and financial management of hospitality establishments such as hotels, resorts etc. This is also a good course for any candidate who wants to take up an MBA (HM) course in future. The course offers excellent prospects to students who wish to take up management level positions in top hotel management companies and organizations.

Candidates who wish to join the tourism industry in any role, including travel consultant, travel manager, travel marketer etc. It is also a great course for people who wish to take up jobs in the public sector and wish to pursue master's and research level courses in the travel and tourism sector.
Hence, each of these courses have their own benefit and are useful as per the field a candidate wishes to go for.Fresh hotel management graduates are generally recruited as management trainees. They might be engaged in Front Office operations, F&B production, Meeting & Events Operations Management, Restaurant Operations etc. The salary packages to the fresher depend on the type of organization and the skill sets of the candidates. From luxury hotels to fast-food chains; and tourist hot spots to domestic and international airlines, career opportunities in this high-growth hospitality sector are enormous.
Frequently Asked Question (FAQs) - BHM vs BBA (HM) vs BA Tourism- Which is the best career option after class 12?
Question: Which course among BHM, BA Tourism and BBA(HM) is the best?
Answer:
Among these three courses, BHM is the course that is most pursued by hotel management aspirants.
Question: What is the duration of Bachelor of Hotel Management( BHM)?
Answer:
Normally the duration of this course is 3 years but some institutes also offer BHM as a four year course degree.
Question: What is BBA(HM)?
Answer:
BBA(HM) stands for Bachelor of Business Administration in Hotel Management. It is a 3 year undergraduate degree programme.
Question: Is there any entrance examination conducted for BA(Tourism)?
Answer:
No, the admission is on the basis of marks in class 10+2. However, the admission process or selection process may vary from institute to institute.
Question: What are the entrance exams conducted for admission into BHM?
Answer:
The entrance examinations are NCHM JEE, AIHMCT WAT, WBJEE, IPU CET, Christ University BHM, etc.
Questions related to NCHM JEE
Showing 692 out of 692 Questions