(left) Chef Sudhakar trains aspiring chefs at Culinary Academy of India, Hyderabad
FAST FACTS
Profession: Chef; Course: Bachelor's degree/diploma in Culinary Arts
Institutes: CAI, Hyderabad; Culinary Instituteof America (US, Singapore); WACA, Manipal; Le Cordon Blue (four continents); IHM, Aurangabad
Job profiles: Chef; Consultant; Entrepreneur; Food stylist/ writer/ critic/ sculptor/ photographer/ historian; Food & Beverage Controller
Recruiters: Hotels, restaurants, airline/regular caterers, cruise liners, hospitals, corporates, educational institutes, armed forces, TV production houses/media

WHILE Indian chefs, today, are excelling at foreign cuisines like Mexican, Mediterranean and sushi, our own desi cuisine never fails to fascinate Chef Narayan Rao. Consider this; India is made up of 28 states and seven union territories. While a dining table in Kashmir looks very different from one in Kanyakumari, even within a 30 kilometre radius dining options vary based on one's religion, community and food choices (non-veg, pesitarian (fish-eating), eggetarian, veg, satvik and vegan).

Phew! Even the respective colonial influence has left its mark on Indian platters. "The food varies depending on the season and offers a lot of depth," elaborates Chef Narayan who was  Executive Chef of The Aman, a luxury hotel in Delhi until recently.

Main ingredient: passion
Chef Narayan's reasons for joining the profession are "Pure passion and love for food!" Ditto for pastry chef Kishi Arora, who might have pursued an MBA after a BCom at the coveted commerce college SRCC, if her family had had their way. In the face of staunch of opposition, she took a loan and attended the Culinary Institute of America (CIA), a coveted institute in New York City. Still paying off her loan, Kishi seems very driven and convinced of her choice.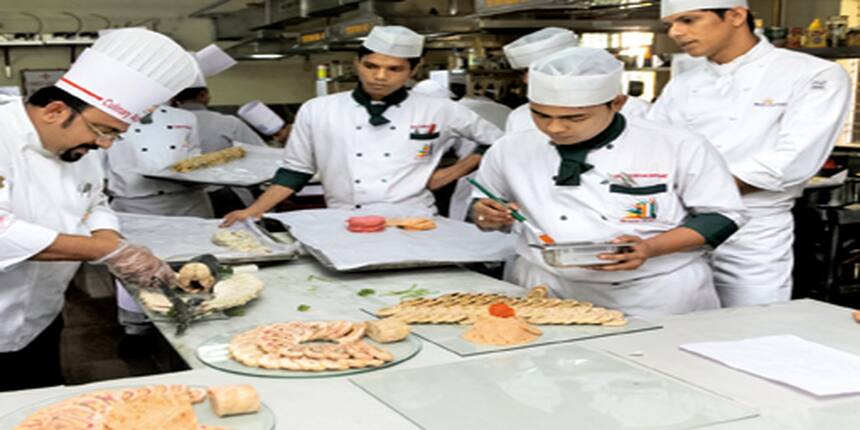 Job scenario
Chef K. Thirugnanasambantham, faculty at Welcome Academy of Culinary Arts (WACA), Manipal University says that the Bureau of Labour Statistics offers a positive forecast. An 11 percent increase in employment for chefs and food professionals, is expected by 2016.

Getting trained
Traditionally, those aspiring to be chefs would pursue a degree or diploma in hotel management, which trains one in the hospitality industry's core functions - Housekeeping, Front office, Food & Beverage and Food Production. When Chef Sudhakar N Rao, a hotel management graduate,  returned to India after working abroad for many years, he felt the time had come for focused chef training institutes and programmes in India. So in 1996, he set up the Culinary Academy of India (CAI) in Hyderabad, with the help of qualified chefs, culinarians and hoteliering professionals.

Chef Sudhakar N Rao
Director, Culinary Academy of India, Hyderabad
"Discipline, grooming, commitment, dedication are important to be successful in this profession"


Q: CAI is India's first  culinary institute. What prompted this step?
A: Till the late 90s, hotel management students were the only ones available as the most qualified to become Chefs, including myself, a Diploma holder in Hotel Management. Now, with availability of professional chef training schools very soon the hotel management and culinary professions will be clearly bifurcated and treated as two different streams and career paths.


Q: Today, more culinary schools have come up. What makes a good one?
A: A good track record, curriculum, the best infrastructure and experienced chef-instructors. However, culinary arts can't be learned just by joining a specialised course. It needs continuous academic grooming and  mentoring to fine tune skills.


Q: How do you shortlist 60 from 600 candidates for the Bachelor's course?
A: During counselling most candidates are evaluated on the skill front in any art form. Also, latent special skills are  explored .


Q: Tell us about your course for the benefit of economically-backward students.
A: This one and a half year Craft Certificate Course is recognised by Andhra Pradesh State Council of Technical Education and Training. A fully hands-on course, students come through an all-India entrance and we select 35 candidates. Those who successfully complete the one year course and 6-month industrial training are presented to Cost Cruises – Italy, where they join as Third Cooks with a salary of Rs. 35,000 to Rs. 40,000.
CAI has 8 fully-equipped kitchens including a bread art lab, a cruise galley kitchen and a confectionary arts lab.
View pics of all kitchens here
Vegetable art created by CAI students
Study abroad @
Le Cordon Bleu academies (Europe, Americas, Asia, Australia)

Grande Ecole, Switzerland

Culinary Institute of America US (Singapore)

Hattori Nutrition College, Japan
Launch of Bachelor's course
Affiliated to Osmania University, CIA's flagship programme is a three-year Bachelor's degree of Catering Technology and Culinary Arts. Chef Sudhakar's vision kicked off a new trend in culinary education in India, and today other institutes have followed suit.
In 2011, Manipal University, which already offered a hotel management programme, launched the Welcome Academy of Culinary Arts (WACA) that offers a three-year BA in Culinary Arts. IHM, Aurangabad offers a four-year BA (Hons) programme. These Bachelor's programmes offer training and exposure to all aspects food preparation and allied functions (see box).
Select culinary programmes in india

Institute

Location

Programme

Fee per year

Academy of Culinary Arts

Hyderabad

Bachelor's in Catering Technology and Culinary Arts

Rs 80,000

Institute of Hotel Management

Aurangabad

BA (Hons) – Culinary Arts (4 years)

16 lakhs

ITM School of Culinary Arts

Mumbai

Baccalaureate in Culinary Arts

3.8 lakhs

Welcomegroup Academy of Culinary Arts

Manipal

BA In Culinary Arts

5.58 lakhs

Indian Institute of Hotel
Management & Culinary Arts

Hyderabad

Bachelor's in Catering Tech and
Culinary Arts

2.2 lakh
How chef's learn
Curriculum delivery is through classroom sessions, practical training on campus and industry internships. By the end of the CAI's Bachelor's programme, students will have worked in all eight full fledged-training kitchens, including a bread art lab and a cruise galley lab, as well as in the academy's compact 40-cover fine dining restaurant that is open to the public. During her training days at CIA in New York, Chef Kishi recalls having to differentiate between 80 varieties of tomatoes as part of building product knowledge! Having been exposed to just one variety of tomato in India, the challenge proved overwhelming. But a kindly professor encouraged her to taste each variety to familiarise herself with flavours. And learning to differentiate she did!
 
"Only those who  want to do this with their whole heart should join this profession"

Namratha Hoora
Pursuing a 3-year BA Culinary Arts programme @ Welcomgroup Academy of Culinary Arts
THIS second-year student based in Bangalore always had a penchant for cooking. But due to her late father's chronic illness, she worked part-time after Class 10 to help support her family. Namratha rose to the level of training coach in the call centre industry, and finally took the plunge at age 29, to pursue her dream –  becoming a professional chef.
Choosing a course & getting in
Namratha visited several institutes to view the infrastructure, which she feels must be state-of-the-art. "At  WACA each workstation has convection oven. We have Victrinox knives, some costing as much as Rs. 5,000, and even a box that sterilises knives through radiation," she shares. She applied online and took an online test for communication, logic and calculation. This was followed by a Personal Interview and Group Discussion. "They try to find out why you wish to join this course, to see if you are really serious," she says.
Learning culinary and allied skills
In her first year, the curriculum gave exposure to a variety of cuisines, bakery and service etiquette. In the  second year Namratha looks forward to learning about planning menus and a core aspect - finance. Visual cooking demos are conducted in an auditorium, equipped with a projector and video camera. This enables the batch of 20 students to view close-ups as well as watch the videos at a later date for reference.
The Masterclass
Veteran chefs get invited to share their culinary expertise with students on campus. "A Canadian chef spent two weeks with us exposing us to cooking with two key Canadian ingredients – maple syrup and black rice," she shares.
Hands-on training
While theory is important, culinary programmes lay much emphasis on practical training and exposure. Her first taste of the work grind was on campus at the MIT Food Court, run by culinary professionals from Chef on Wheels. "It prepares breakfast, lunch and dinner for 3000 students a day!" she shares. This was followed by a summer internship at ITC Gardenia, a luxury hotel in Bangalore. Here she spent time at West View, a restaurant that serves grilled food, as well as the hotels 'halwai' and butchery departments. She would report to work at 2 pm and wind up by 2 am. "When there are functions it can stretch longer," she says, aware of the long hours and physical stamina required of the profession.
Family support
"My father is no more. My sister, now in the UK is sponsoring me financially and my mother is supportive of my work schedule," says Namratha with gratitude. Her dream is to open her own restaurant someday. But for now she is focused on the basics.
Students training at their individual places - called work stations - in the institute kitchen
Aspiring chef's at WACA get hands-on experience by preparing food at the student cafetaria
A students explores various kitchen tools available to them
Chef Kishi Arora, Founder - Foodaholics
Finding your niche
While having an awareness of all cuisines is good, developing a specialisation helps one excel. Chef Kishi recalls a major stumbling block during the course - butchery class. A vegetarian by birth, the task of cutting meat proved a tad traumatic. On the suggestion of a teacher, she switched from a culinary programme to Baking and Pastry Arts, and there she found her niche in the culinary arena. She went on to play a major role in the set up of food chain Mad Over Doughnuts in India and now, runs her own enterprise Foodaholics in Delhi, which focuses on creating pastries with complex  flavours and textures.
Post chef's training
Recruiters include ITC Hotels, Taj, Oberoi, Starwood, The Leela, The Park Group, Lemon Tree Hotels and the Four Seasons. You can also work at restaurants, food chains, corporates, caterers and more. While uniformity is missing when it comes to the chef's career hierarchy, Chef Thiru shares one progression: Corporate Chef, Executive Chef, Senior Executive Sous chef, Sous Chef, Junior Sous Chef, Chef de partie, Demi Chef de partie and Commis. Trainee chefs can start off with salaries between Rs. 12,000 and 35,000. But as chefs ascend the ladder, they eventually end up doing a lot more then cooking. This includes quality control over ingredients and food served, curbing wastage, managing finances, planning menus and hiring and managing teams. Hence, a good chef has to be a good leader.

Explore: Five star chain Marriott's Careers page on Facebook!
Chef Narayan Rao
Culinary adventures
One of Chef Narayan's wildest experiences was leading a team for a celebrity wedding at a jungle resort. While guests  let their hair down, it was madhouse backstage; 6 am to 10 am was breakfast, 12 pm to 4 pm was lunch and 6 pm to 10 pm was dinner! This routine continued for six days. While high profile events like this one bring on the adrenaline rush,  a most precious moment in the chef's career was when the late actor Shammi Kapoor summoned him to his table. "He kissed my hand and remarked that my food reminded him of his mother and his days in Pakistan before independence," reminisces the chef.

The labours of love
While money, fame and celebrities on speed dial are by-products of success, be prepared to slog it out for the first five years of you career,  including keeping work stations spotless and peeling potatoes. But take heart that most veteran chefs have been through this grind and consider these basic tasks essential to lay the foundation. "On the bad side,  you will work late all through your career," says Chef Sudhakar. "Once you have established yourself in the field, you are a celebrity," he adds. In case you haven't realised, the word 'chef' tends to get prefixed before one's name, almost like a title, which of course must be earned. Some chefs have even been known to wield more power than the General Manager of the hotel! This is simply because people know  the real value of good food – priceless.  

Are you a trainee chef, faculty or culinary professional? Share your tips and advice here for the benefit of students!