5 Movies Every Aspiring Chef Should Watch
5 Movies Every Aspiring Chef Should Watch- In this fast-paced life people are always looking for ways to make it easier to learn cooking into their busy schedules, and that's why the popularity of the chef movies have soared. It turns out that watching the cooking, especially when done by others, comes with some positive psychological benefits. And these positive effects could be enough to get us into the kitchen. It enhances the skills a chef should have. There's a tremendous amount of confidence-boosting and self-esteem boosting that these movies promote for those aspiring to become a chef. What do all the best movie chefs have in common? For one, they are not just good at what they do but also obsessive about it. They only want to serve the best food they can and nothing less. Hence, in this article we will be listing few movies which aspiring as well as current chefs should definitely consider watching.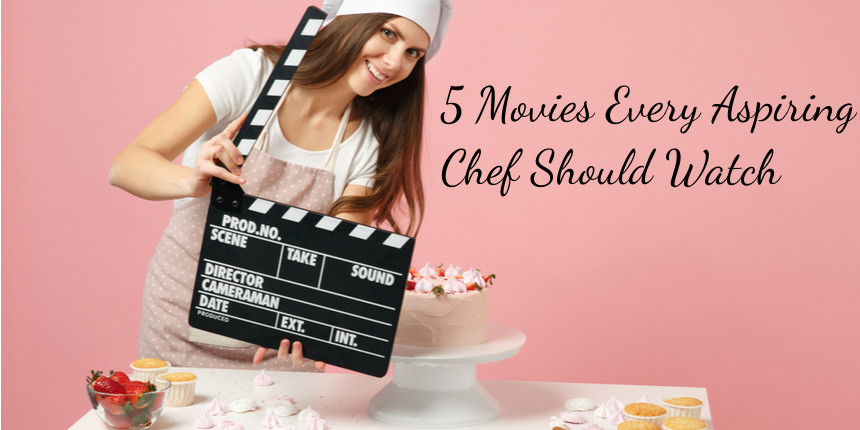 Quick Link-
1. Chef( 2014)
The chef: Carl Casper, played by Jon Favreau
About- Released in 2014, directed, produced, and written by (and starring) Jon Favreau, Chef tells the story of a chef who leaves behind his high-profile gig at a fancy restaurant in Los Angeles to give a kick start to a food truck business in his Miami hometown. He rediscovers his passion by opening a Cuban sandwich truck — feels a bit trite, but the cooking scenes in this movie could be the basis of a film-school class on food porn: there's the scene where Casper seduces Scarlett Johansson's character with pasta aglio e olio, the grilled cheese sandwich he makes for his son that'll make you question your own father, beautiful carne asada, and the mojo pork Cubanos that really make this movie hard to watch if you're hungry.
What you can learn: The film gives insight into life as a 21st century chef, when critics and reviews can make or break your career and anyone can capture you at your worst moments with the help of a smartphone camera. Chef is an emotional journey that touches upon many elements of a chef's life, including the delicate balance of family and relationships, and whether to follow your creative impulses.
2. Ratatouille (2007)
The chef: Remy, voiced by Patton Oswalt
About: When you need a break from serious chef movies, switch to this animated Disney/Pixar movie . It will definitely recharge your sense of wonder in terms of the culinary world. Remy is an idealistic, ambitious and talented young rat who dreams of becoming a famous chef just like his idol – Auguste Gusteau. Coincidentally Remy befriends Alfredo Linguini who is hired as a garbage boy at Gusteau's popular city restaurant. He later also finds out that Linguini is Gusteau's rightful heir and with his help starts cooking delicious meals at the hotel.
In Ratatouille, Remy the rat has an elevated sense of smell and a master chef's palate. Along with this, you'll be feasted to a colorful tale that highlights life in a traditional French kitchen and the amazing flavors that can be created by combining unexpected ingredients.
What you can learn: Movies often give us unexpected lessons. Here are some lessons that we can learn about food and life from the movie Ratatouille.
"Anyone can cook, but only the fearless can be great."

"Food always comes to those who love to cook."

"Good food is like music you can taste, color you can smell."

"Always do something unexpected."

"Not everyone can become a great artist; but a great artist can come from anywhere"
Thus you will love this Disney-Pixar masterpiece. It doesn't matter where you come from, or how little you think you are in comparison to others, you can still become the best. Chefs need to remember that great food can always bring joy and inspiration to others.
3. Burnt( 2015)
The chef: Adam Jones, played by Bradley Cooper
About: In this movie, you will watch Bradley Cooper shucking oysters, julienne vegetables, and breaking down fowl. The movie highlights the comeback journey of Adam Jones, a talented head chef who spent 10 years cooking in one of the best restaurants of Paris. He achieved two Michelin stars, fame and success and then fell from grace as a result of his arrogance. His arrogance not only affected his own career, but also caused ban on the restaurant including side effects on the careers of a number of his friends.This movie shows how Adam tried to restart his career in London, rebuild his reputation and achieved his third Michelin star – the highest possible rating from the French restaurant guide. This movie covers many essential entrepreneurial lessons, a few of them are as follows:
Avoid arrogance of success

Understand Your Competition

Plan your comeback

Admit and correct your mistakes quickly

To be extraordinary, give your best in ordinary

Earn trust of influencers

Accept the challenge of changing yourself

Respect your team and keep experimenting.
4. The Hundred Foot Journey (2014)
The chef: Hassan Haji, played by Manish Dayal
About: An Indian chef with a preternatural ability to cook moves to France with his family and opens up a restaurant that competes directly with the Michelin-starred restaurant across the street. The family of talented cook, Hassan Kadam (Manish Dayal), has a life filled with both culinary delights and profound loss. It is a story about how the hundred-foot distance between a new Indian restaurant and a traditional French one represents the gulf between different cultures and desires. It focuses on the rivalry and resolution of the two restaurants and is based in Saint-Antonin-Noble-Val, France. The book is narrated by Hassan Haji, the protagonist of the novel, who is born and raised in his family's Indian restaurant in Mumbai, and it encompasses his journey from child to world-renowned chef.
What you can learn: This movie shows how to embrace the extraordinary and enjoy it. You will see two beautiful cultures clash, mingle and eventually harmonize. Diversity brings something new and different in our lives.
5. Le Chef (2014)
The chef: Jacky Bonnot, played by Michaël Youn
About: Chef Jacky Bonnot is obsessed with fine cuisine, but can't seem to get a job in a fine-dining restaurant. He briefly takes a job repainting an old folks home but can't help but try and make them gourmet dishes, the first of which is this dish, featuring cod in a lemon sauce on a "raft" of asparagus. That leads to sweetbreads and scallops deglazed in an elderberry vinegar, and caramel mille-feuille with strawberries, currants, pistachios, and a vanilla sugar heart. Every dish has a little imagination and a sense of creativity you just don't see in most chef movies.
What can you learn: By including exquisite dishes such as lamb topped with cinnamon and lotus leaves and caramelized leek, the film pays its due respect to luxurious taste and French cuisine. The presentation of the food is also spectacular and will have audiences drooling throughout the film. The one thing this film does fabulously is its food. You will be eager to take culinary arts as your career and newfound passion after watching this film.
Thus, all aspiring chefs must watch the above listed movies so they can develop a better understanding of the kind of hardships they may face in the pursuit of their passion.
Also read-
5 famous chefs of the world & their success stories
Why is formal training required to be a professional chef in a top hotelskills a chef should have