Diploma: Hotel Management courses
Every year, the hospitality industry needs over 2 lakhs of skilled professionals and with the Commonwealth Games just round the corner, the demand for hotel management professionals has surged up.

R K Gupta, senior lecture at Institute of Hotel Management, Pusa, (IHM) says that applications for short-term, skilled-based programmes have gone up by 10-15 per cent. There are four major functions in the hospitality sector. These include: Food Production, Food & Beverage Service (F&B), Front Office, and Housekeeping.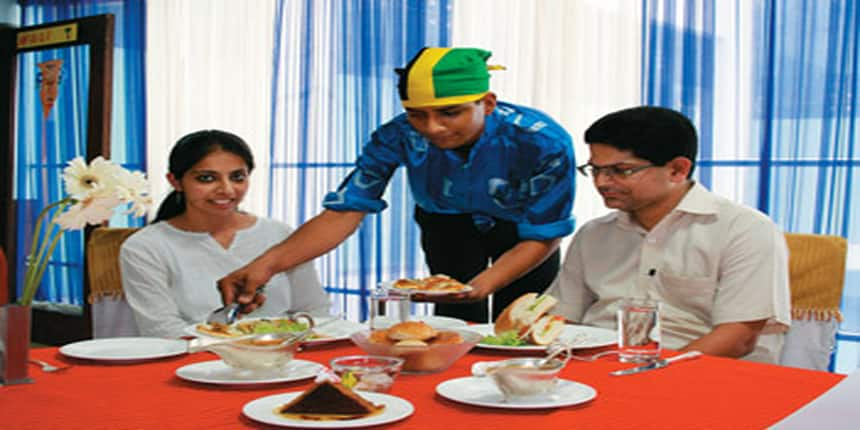 Click here to Enroll  for All India HM Counselling Pack 2015 to get All Alerts, Updates and Guidance for College Selection

Food Production is all about cooking different kinds of cuisines, baking cakes and pies and presenting it aesthetically Food & Beverage Service (F&B), is about taking the guest's food and drink order, ensuring that the guest is received and looked after well Front Office welcomes a guest and ensures a hassle-free stay at the hotel.

Front Office is a popular subject choice for students as there are job opportunities in this area Housekeeping ensures the guest feels at home in the hotel room Besides, the wellness industry that includes spa and fitness is becoming a popular service in hospitality and offers plenty of job opportunities in hotels, spas and health clubs.

The work a chef or managing a hotel may seem glamourous, but the working hours are long, and the job is very demanding. But it is also an industry that grooms you, polishes your communication skills and teaches you hygiene and trade skills, besides providing you with a very refined working environment, points out Gupta of IHM.

Hotel management institutes across the country offer certificate and diploma courses. While the duration of certificate courses is less than 12 months, diploma courses are a little over a year. In fact, the National Council for Management and Catering offers around eight courses in hotel management.
 
Courses and duration
Craftsmanship Course in Food Production (one year and six months)

Craftsmanship Course in Food and Beverage Service (one year and six months)

Certificate Course in Hotel and Catering Management (six months)

Diploma in Food Production (one year and six months)

Diploma in Food and Beverage Service (one year and six months)

Diploma in Front Office (one year and six months)

Diploma in House Keeping (one year and six months)

Diploma in Bakery and Confectionery (one year and six months)
Eligibility: 10+2. The selection is merit-based.

Job prospects: Hotels, Indian Railways, IT, all major corporate companies which have large cafeterias and housekeeping needs, hospitals, aviation industry, retail industry (Bread & Breakfast, bars, pubs, restaurants) defence establishments, banks, insurance and outsourcing sectors.

Remuneration:
Rs. 8,000-
Rs. 18,000 as trainees. Once the training is over, the package goes up to Rs. 25,000
From craftsmanship course to culinary Olympics

The hospitality industry has many job options provided one is willing to work hard…
Apoorv Bachchan
Trainee, ITC Maurya Sheraton

Course: Craftsmanship course in Food Production
Apoorv Bachchan is all of 17 years old and he is already on the job. "Food has always interested me and I thought, why not plunge into it right away rather than wait for another three years," he says.
Apoorv enrolled for the course at  at IHM. "I want to become a chef," he says as he stands in the ITC Maurya kitchen in a crisp white chef coat and pant – the uniform of a trainee. At IHM, he's learnt to cook almost everything but his favourite cuisine is continental. During his first foreign trip to Shanghai, Apoorv represented ITC Maurya in Bocuse d'Or, the World Cuisine
Contest, also considered the culinary equivalent of the Olympic Games. He was one the three persons representing ITC. "I was working along with Manjit S. Gill, Corporate Chef of ITC-Welcomgroup," he says with stars in his eyes. Sadly the team did not win the contest. "We made steamed Halibut, a fish, with preserved mangoes." The judges did not have a taste for Indian food, he reasons.
Now back in New Delhi and to the 10-hour grind of a trainee's life, Apoorv remembers his Shanghai trip as fun and a learning experience. Even now, there's so much to learn he says besides cooking. Many join the industry for the glamour, but he makes it clear to all aspiring chefs and managers that there's almost no social life in this line of work, and there are no holidays! ..
| | | | | | | |
| --- | --- | --- | --- | --- | --- | --- |
| Institution   | Programme   | Fees*(Rs.) | Months | Selection | Job function | Recruiters |
| | Diploma/Foundation Certificate in International Hospitality Management, affiliated to The Hotelschool, The Hague, students get certificate/diploma in 1st/2nd year from parent institute and Osmania University | 144,000 - 116,000   | 12 | Marks & personal interview   | Front line operations | Leela Palace, Heritage Hotels, Speciality Restaurants Pvt. Ltd., Devyani International Ltd., Papa John's, Café Coffee Day, Orange Harra |
| | Diploma/Certificate in Food Preparation; affiliated to The Hotel School, The Hague, students get certificate/diploma in 1st/2nd year from Parent institute and Osmania University | 1,61,000 - 122,000 | 12 | Marks & personal interview   | Commis in Kitchen | Taj Palace, Country Inn & Suites, The Lodi, Mainland China, Barbeque Nation, Pizza Hut, Tabulrasa,   |
| | Advanced Diploma in Hospitality Management; affiliated to Vinayaka Missions University | 90,000 - 1,40,000 | 24 | Class 10th. 12th pass can opt for fast-track 1-year diploma | Guest Service Executive, Relations Executive, Sales & marketing Executive | Many leading hotels, malls, clubs, health & spa centres etc. |
| | Diploma in Travel & Tourism; affiliated to Thomas Cook | 70,000 - 85,000 | 12 | Interview; good communication skills are preferred | Ticketing Staff, Sales & marketing Executive in Travel Industries | Leading Travel Agencies, Tour Operators |
 *Fees may change.